Workiva And EisnerAmper Partner To Optimize SOX Process
Workiva Inc (NYSE:WK) , a provider of enterprise productivity software, recently announced a partnership with EisnerAmper, one of the top 20 advisory and accounting firms in the United States.
Key Takeaways of the Deal
Per the deal, the duo will be working toward making the documentation process easier and less time consuming for EisnerAmper's clients related to internal controls and other risk and governance processes. It will also help in the smooth implementation of financial controls related to Sarbanes-Oxley (SOX) Act's regulations.
Notably, Workiva's cloud-based platform WDesk is in compliance with the regulations of the Sarbanes-Oxley Act, which looks after the protection of investors against fraudulent activities by companies.
Further, Workiva's flagship spreadsheets and presentation applications support granular permissions and auditing processes, which in turn assist organizations in real-time workflow optimization and critical data handling.
As the system supports granular control, users can edit and review any document related to them. They can also allow secured access of the documents to their external auditors, which makes the process further streamlined.
Workiva's Growth Prospects
Workiva stock has gained 44.6% year to date, substantially outperforming the 18.8% rally of the industry it belongs to.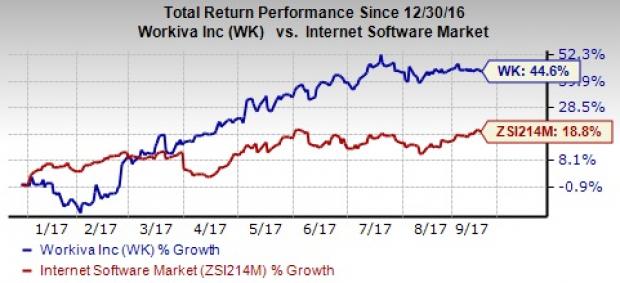 The company has a strong customer base with its SOX related applications adopted by the likes of Fastpath, Hi-Crush Partners, Dr Pepper Snapple and 2U among others, in 2017 itself. The partnership with EisnerAmper will further boost the company's top line and provide it with a competitive edge against peers like Xero, Vivid Reports and Intacct.
We believe that favorable trends of the financial services application market along with expanding product poertfolio will help the stock maintain momentum in the rest of 2017.
Workiva is a provider of a cloud platform called WDesk, which is used for collecting, integrating, managing and analyzing business data. It offers solutions that comply with the regulations of the Sarbanes-Oxley Act. These regulations take into account the measures related to protection of investors against fraudulent activities by companies.
Per a recent report by MarketsandMarkets, the financial services application market will be worth $103.66 billion by 2019. We believe that since Workiva's platform is mostly used by auditing and accounting firms, the company will benefit from the growth of the relevant market.
Recently, Gartner mentioned in one of its reports that cloud application infrastructure services market is expected to rise from $8.8 billion in 2017 to $14.8 billion in 2020. Thus, Workiva's cloud platform is anticipated to benefit from the growth of the segment.
Zacks Rank and Key Picks
Workiva currently has a Zacks Rank #3 (Hold).
Better-ranked stocks in the broader industry include Lam Research Corp. (NASDAQ:LRCX) , Applied Materials, Inc. (NASDAQ:AMAT) and Micron Technology, Inc. (NASDAQ:MU) all sporting a Zacks Rank #1 (Strong Buy).
The long-term earnings growth rate for Lam Research, Applied Materials and Micron Technology is projected to be 17.2%, 17.1% and 10%, respectively.
Looking for Stocks with Skyrocketing Upside?
Zacks has just released a Special Report on the booming investment opportunities of legal marijuana.
Ignited by new referendums and legislation, this industry is expected to blast from an already robust $6.7 billion to $20.2 billion in 2021. Early investors stand to make a killing, but you have to be ready to act and know just where to look.