American Express Earnings Deliver Relief If Not Belief
American Express has silenced some of its critics — for now, anyway.
The credit card behemoth surged more than 10 percent Thursday after its third-quarter earnings beat Wall Street expectations by the biggest margin in seven years. AmEx also raised its 2016 earnings outlook while reaffirming its 2017 guidance, alleviating concerns that the latter may be too unrealistic.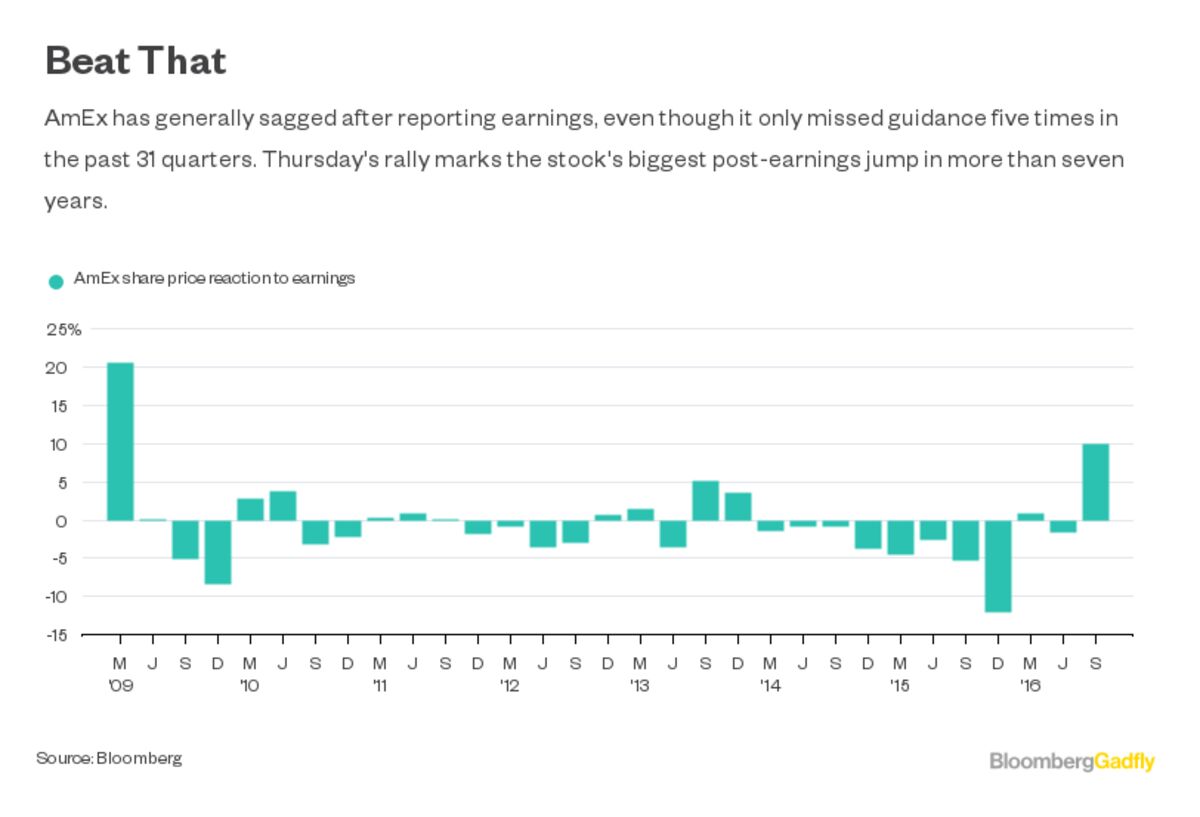 But while there's an undeniable sense of relief, there's still a legitimate question of whether that should translate into belief in the company's future prospects. After all, it's still smarting from the loss of its Costco partnership and is "very likely" to lose its Starwood co-brand relationship in the first half of 2017, according to RBC Capital Markets analyst Jason Arnold. Plus, much of the reason it has been able to deliver on guidance is because of sizable buybacks and cost cutting rather than improving its underlying operations.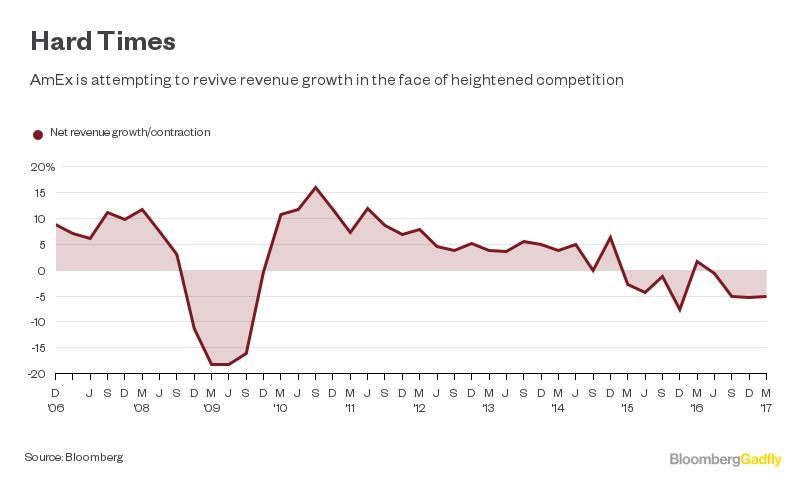 As a result of continued, intense competition, AmEx's attempts to replace the revenue it's lost to rivals won't come cheap. In the U.S., its platinum products are up against offerings from banks such as JPMorgan Chase, which may have better success luring the same clientele — wealthy individuals and small-business owners — with a superior rewards program. To keep up, AmEx admitted its reward expenses could grow at a faster rate than its billings. That would compress margins and just isn't sustainable.
The card issuer must also ensure its $1 billion cost-reduction target isn't achieved at the expense of longer-term growth. Already, AmEx's plan to potentially pull back on overall marketing and promotional spending by leaning more on digital efforts rather than direct-mail raises concerns, if only because such a pivot could attract fewer new cardholders.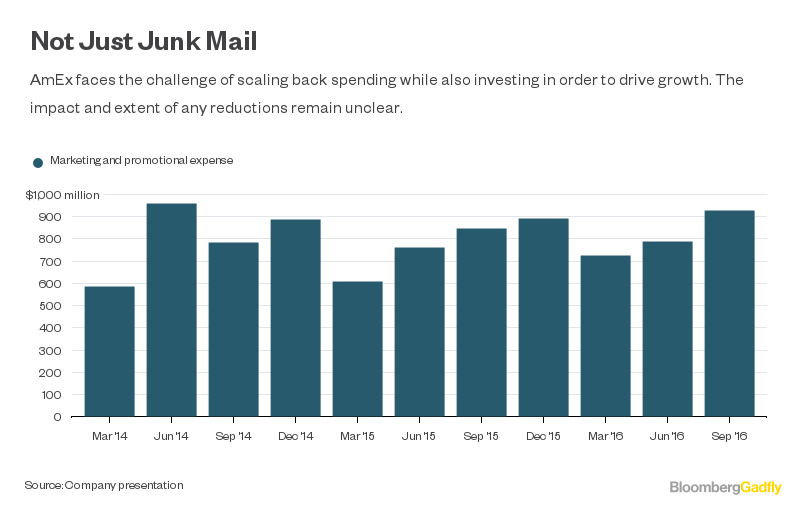 Following its rally, AmEx appears to be fairly valued, given its predicament. The stock commands a forward price-to-earnings multiple of 12, below its recent five-year average of 13.5 but in line with where Wall Street believes it should be.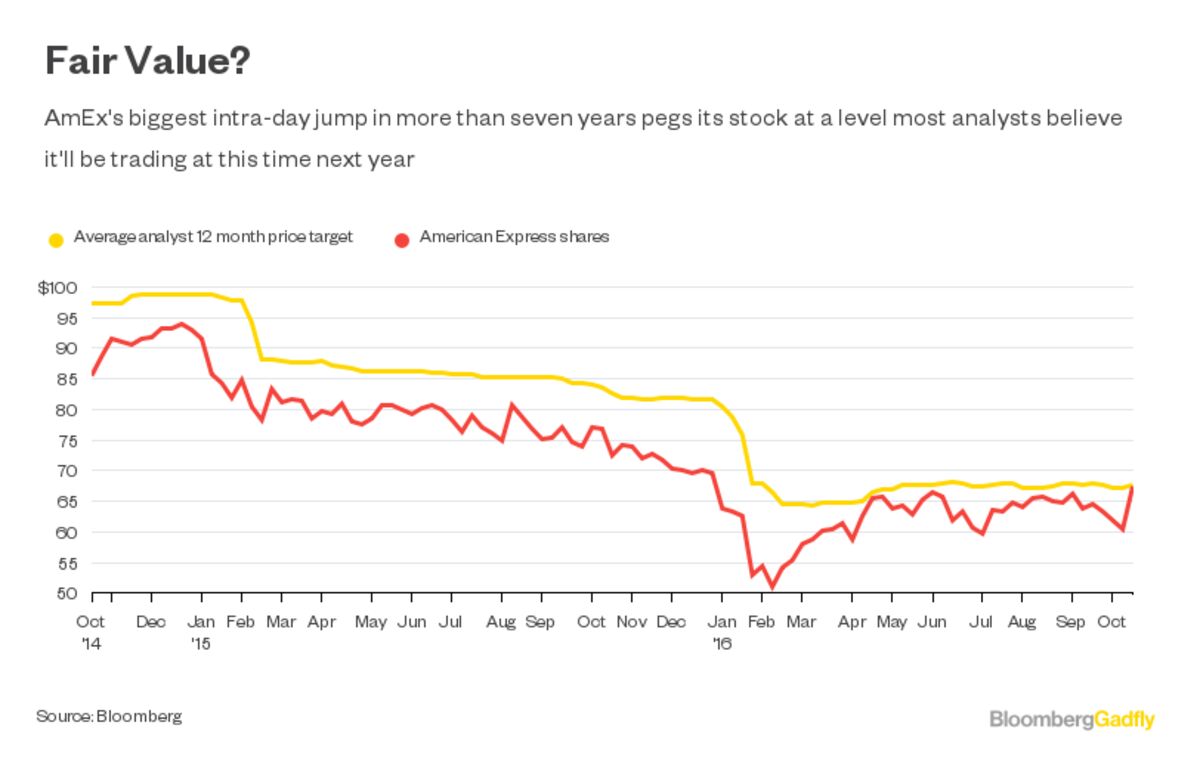 Its brief recovery may have been enough to warrant a warm phone call to CEO Ken Chenault from Warren Buffett, whose Berkshire Hathaway is AmEx's largest shareholder with a stake of 16.4 percent. Not that it matters much to Buffett, a perennially long-term investor, but Berkshire's stake is worth some $2.5 billion more than it was back in February, when the financial-services company sank to its lowest level in over four years as other investors fretted about disappointing earnings and growth prospects.
The threat of tepid growth remains. For now, AmEx has found a clearing, but it isn't out of the woods.
This column does not necessarily reflect the opinion of Bloomberg LP and its owners.
Costco branded cards represented about 9 percent of billings in
Co-branded Starwood cards represented about percent of billings in